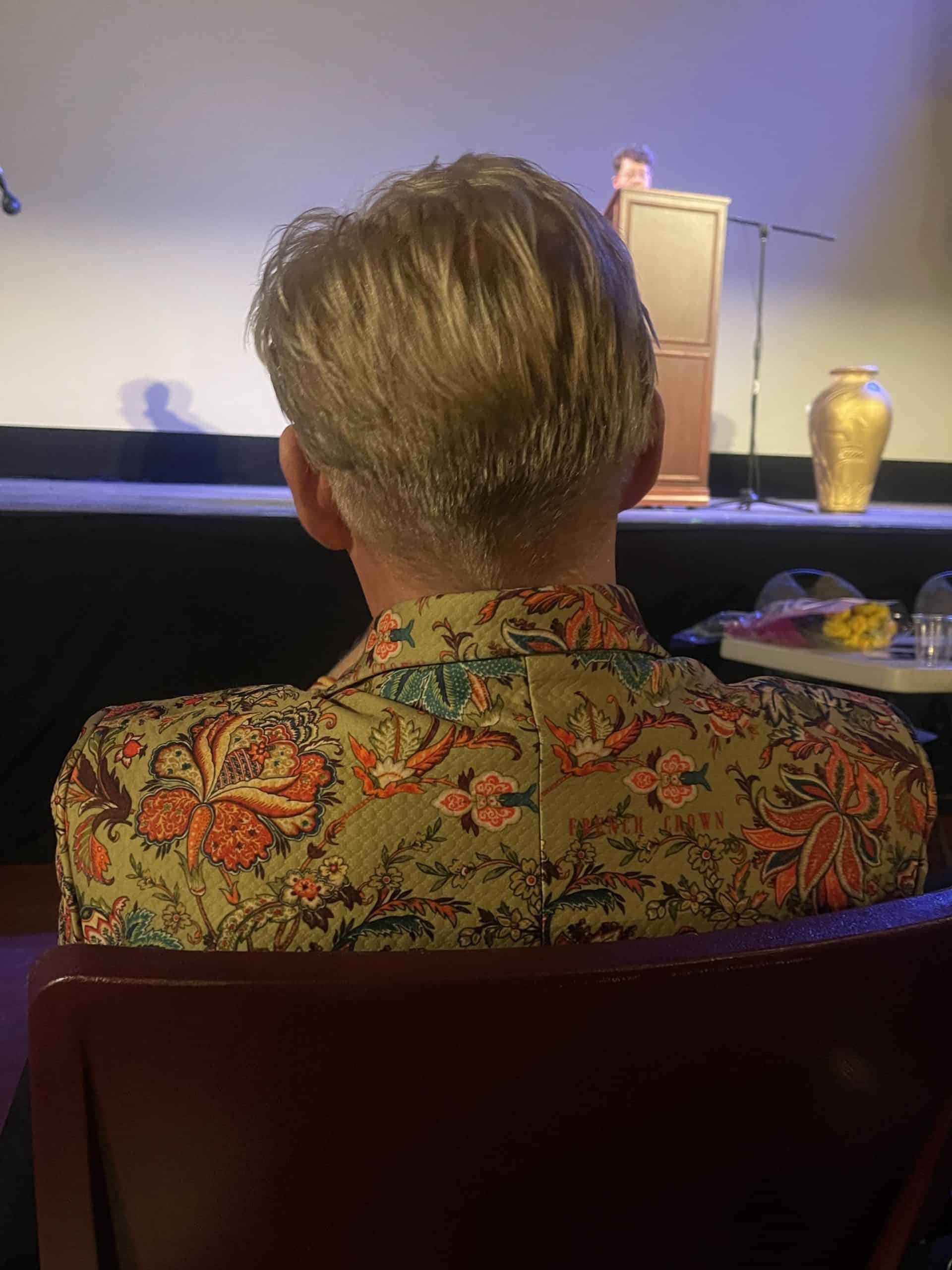 At the historic Roxy Theatre in Saskatoon last Friday night the McNally Robinson Bookstore sponsored the local launch of Anthony Bidulka's new book, Going to Beautiful. It was an excellent evening – the first gathering of book lovers I have attended in 2 years.
Tony was resplendent in a shimmering gold brocade jacket featuring bright floral designs. He sat down in front of me as the program began. 
The evening opened with a fond tribute from Tony's husband, Herb McFaull. They have been together for over 30 years.
Tony is intensely proud of his Ukrainian heritage. When planning the event he learned of a talented 13 year old singer, Kateryna Grace, who is also Ukrainian. Initially the concept was to celebrate the Ukraine.
With the Russian invasion the theme changed to honouring and supporting the Ukraine. It was a powerful moment when Kateryna, standing before a Ukrainian flag upon the theatre screen, sang the Ukrainian national anthem a cappella. She then moved everyone with a song she had written expressing her emotions of braveUkrainians fighting for their homeland.
Tony came to the stage. He spoke of the challenge in finding a publisher for a book about a gay man, his trans friend, rural residents (Ukrainian and Chinese) and a nun with the story set in rural Saskatchewan. He said he knew he had the right publisher in Stonehouse Publishing when they spent the first 20 minutes of their initial meeting talking about how they loved the book before turning to contractual matters. 
He read from the opening section of the book about Jake Hardy, greatly suffering from a "man cold" (the women in the audience snickered) being comforted by his husband, Eddie Krevits, with a gentle touch. Later that night, Jake, staggering out to the kitchen and then onto their apartment patio greets Eddie before returning to bed. It was the last time he saw Eddie alive.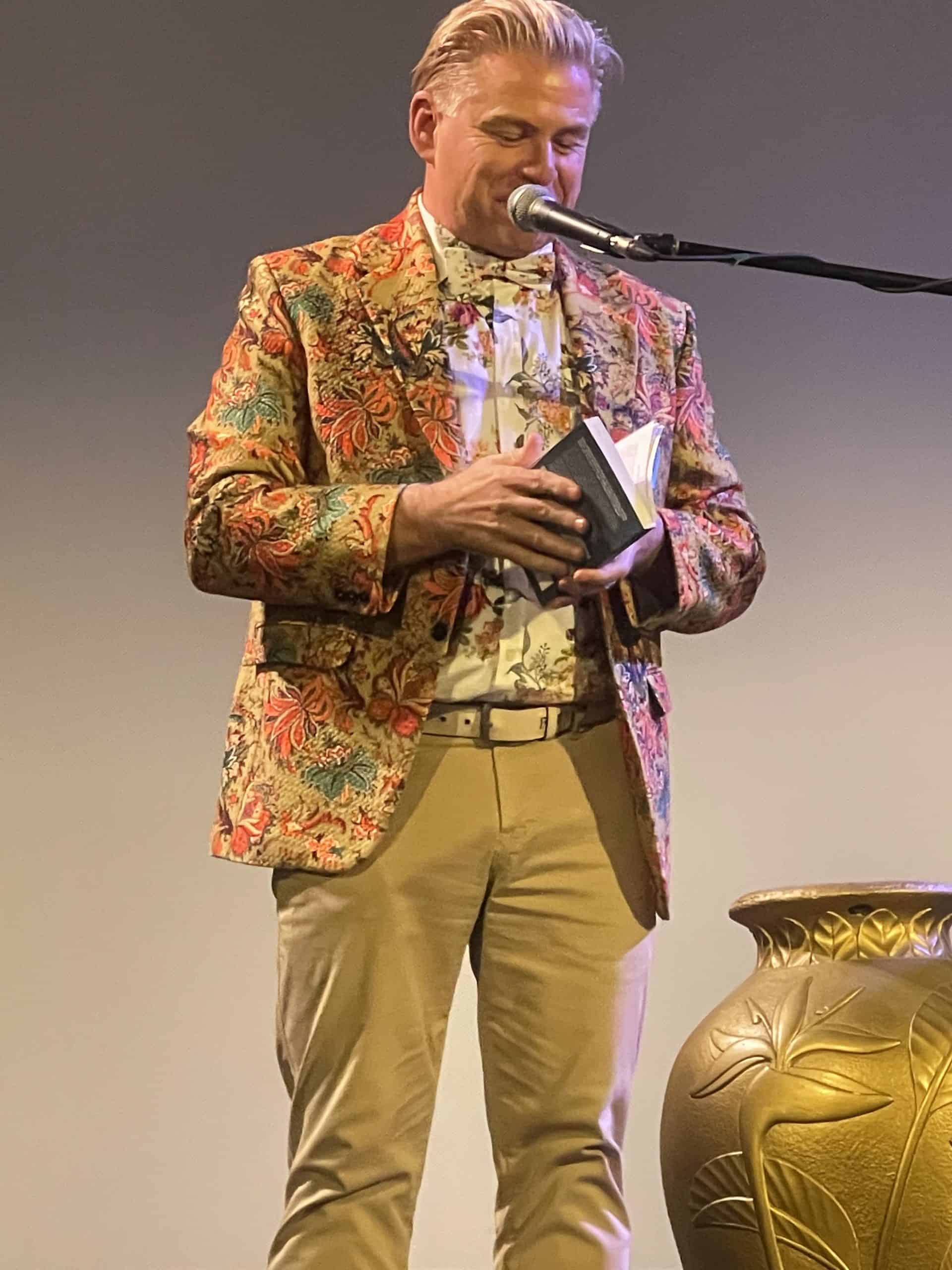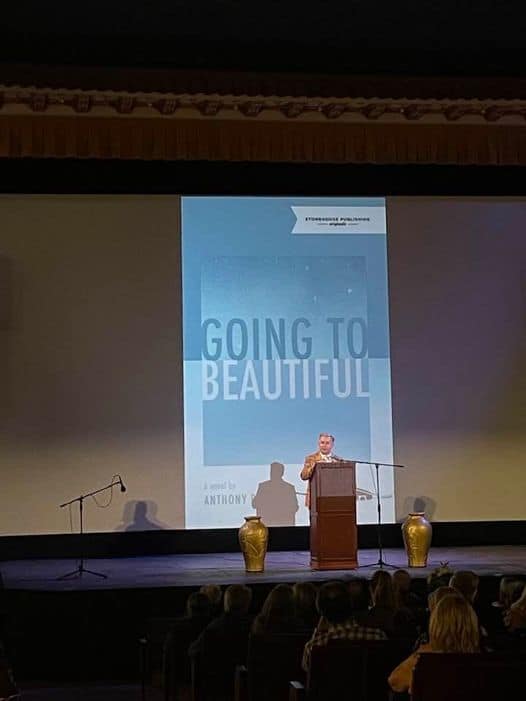 Anthony said that he seeks to write about underrepresented characters and settings in his books.
He stated that when he started writing he had not set out to write books set in Saskatchewan. He said his writing now when it involves Saskatchewan is intentional.
On the use of humour in his books he said that he only tried to be humorous in one unnamed book. He thought it did not go well. I would not use the word humorous for his writing. I prefer witty and carefree like the author. Anthony has a natural flair that comes through in his writing.
He was proud to announce he has signed to release a new book next year. It will be titled Living Sky. On its setting he suggested we look to our licence plates. Saskatchewan licence plates bear the motto "Land of Living Skies".
To end Anthony said he hoped readers, when they finish Going to Beautiful, will have a smile on their faces and their hearts feeling larger. He put aptly how I felt.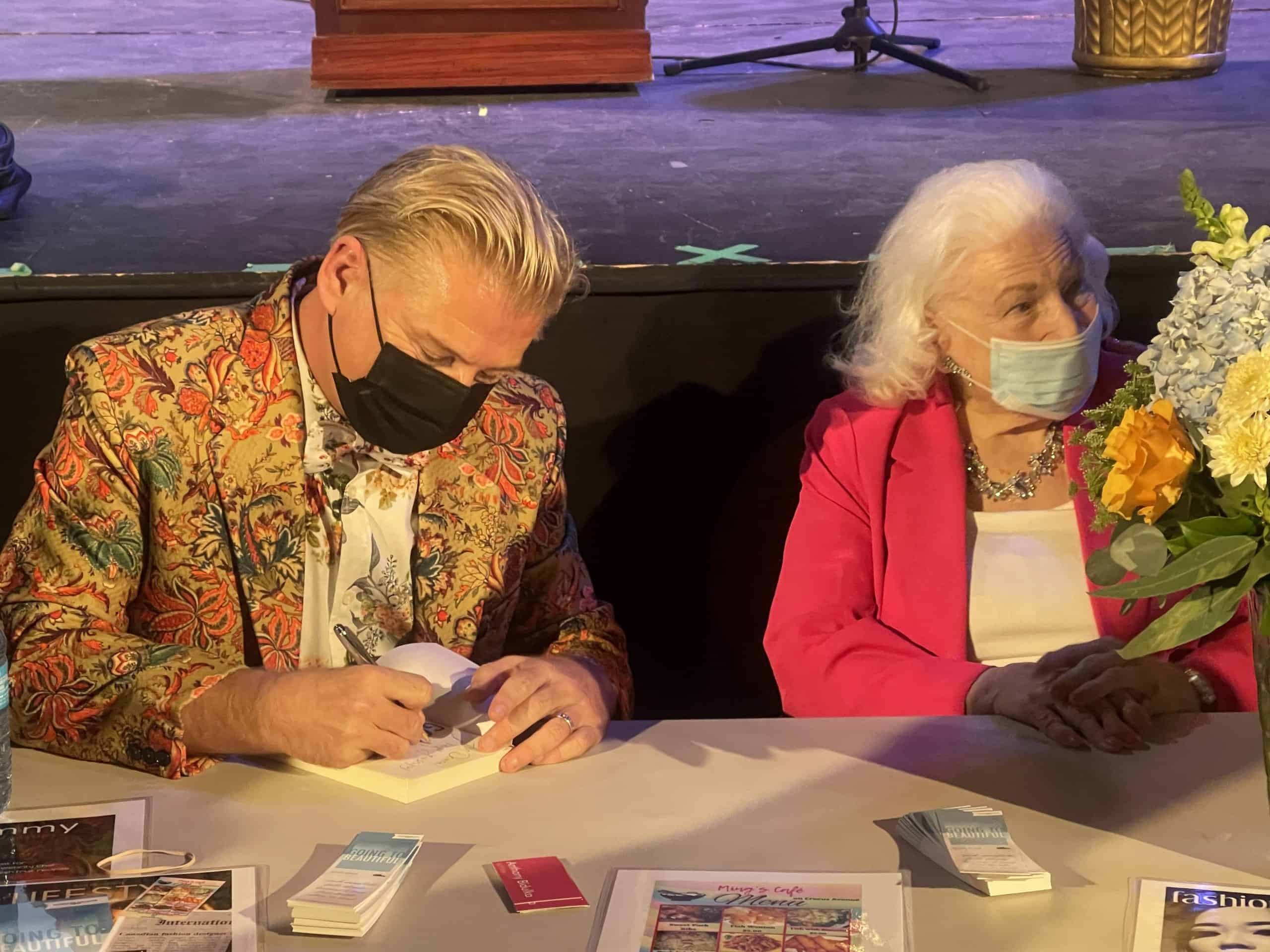 Many in the large crowd came forward to have copies of the book signed by Anthony who was seated beside his mother, Johanna, who is soon to be 90. Not to be outdone by her son she wore a striking pink suit jacket and pants.
Readers of the Russell Quant series will recognize Johanna in Russell's indomitable mother, Kay.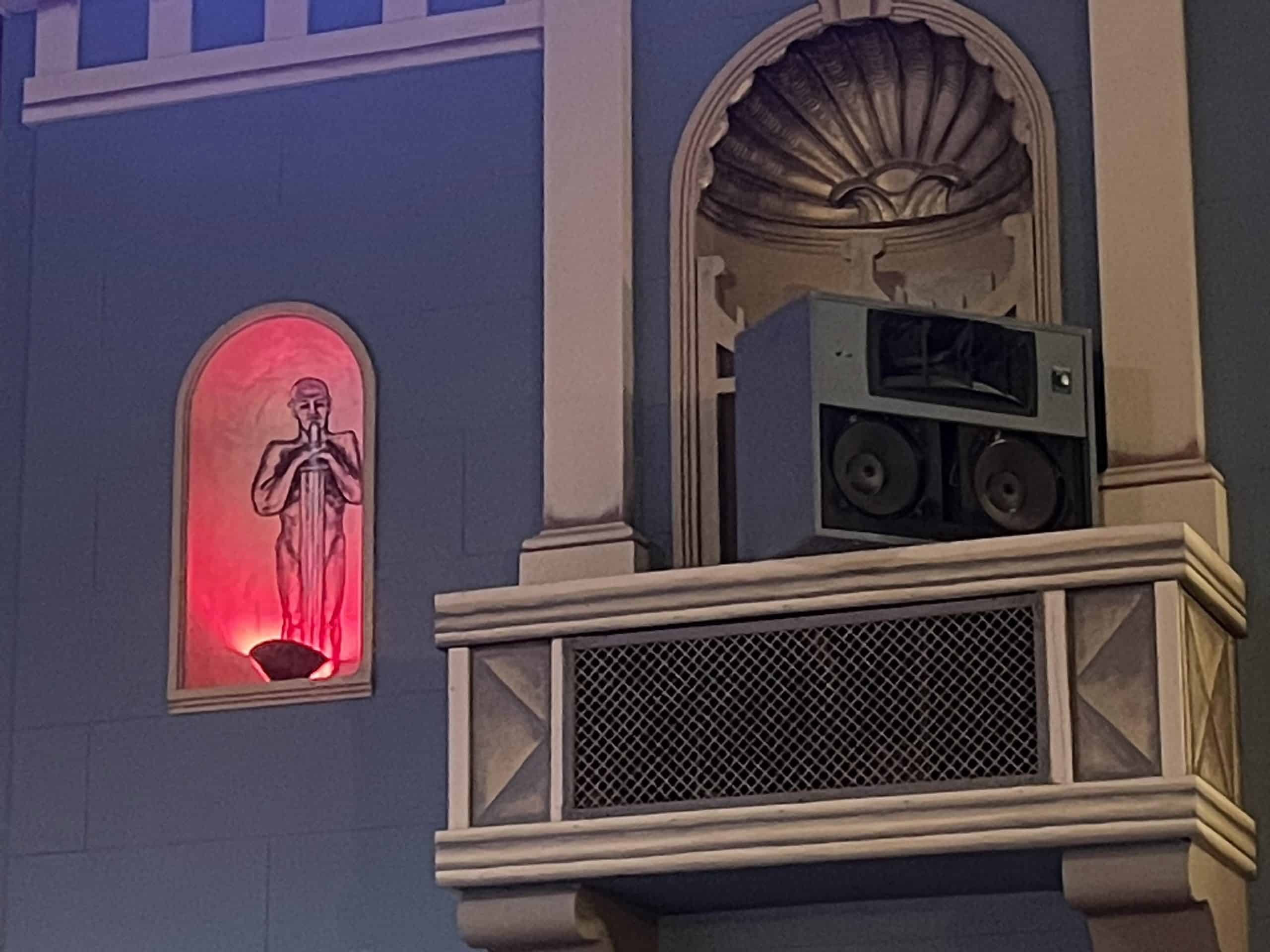 The theatre was a striking setting with its whimsical
walls with a castle balcony here and a smiling bear there.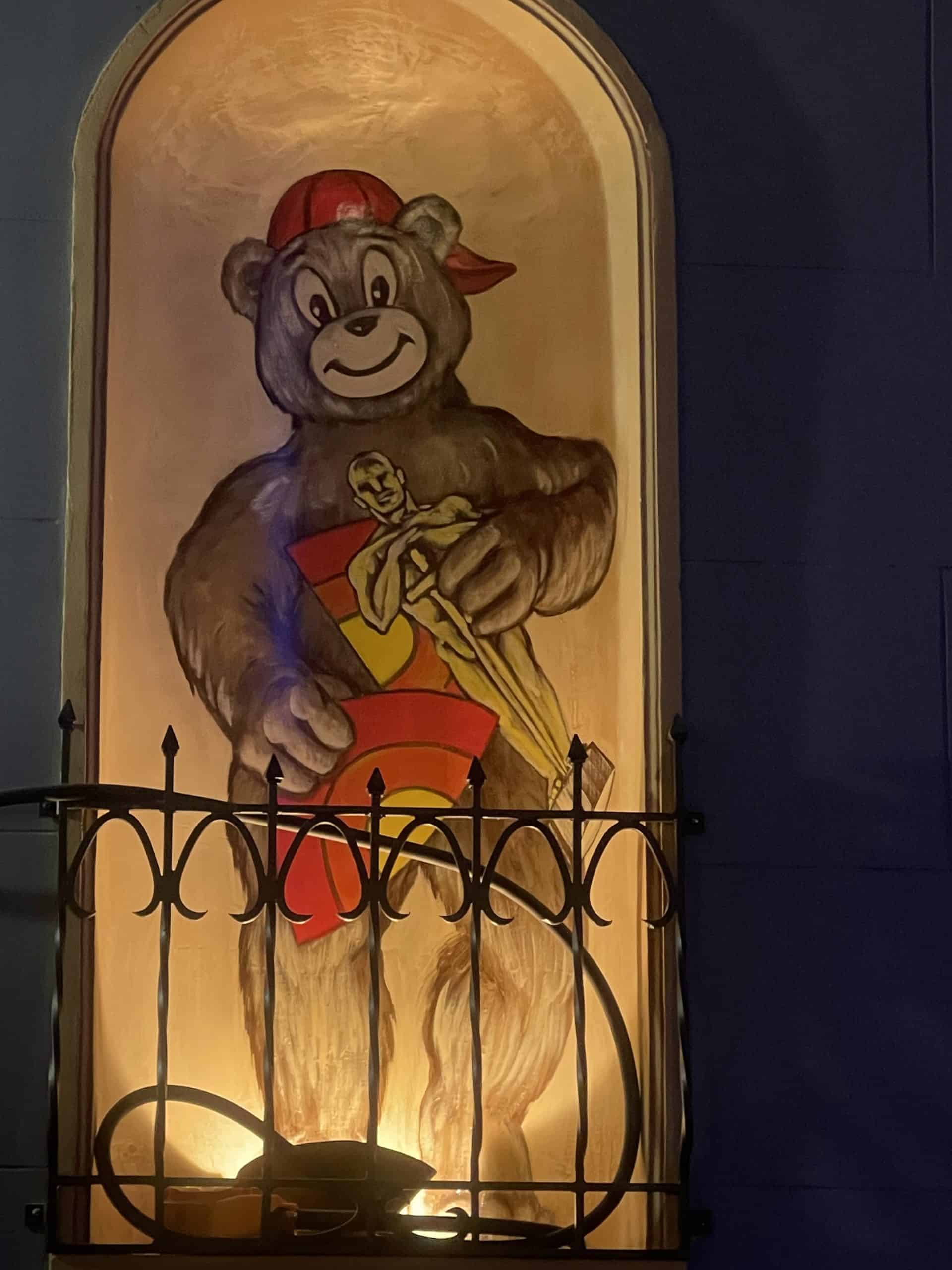 Tony's love of food, especially Ukrainian food, meant the evening snacks were the dishes of Going to Beautiful. Dreen's Catering supplied perogies (boiled and fried), slices of kielbasa, a second sausage, dill pickles, sour cream and small cinnamon twists. Those who arrived early enough, such as myself, were treated to a free beer to wash down the hearty Ukrainian fare.
Many events have a glitch. Tony's was memorable. As he went upon the stage you could see he was not wearing shoes. It was not a unique fashion statement honouring his character, Eddie. He said as he was backstage the whole heel came off a shoe. Undaunted he strode proudly forward in magnificent pink socks.
See more at Mysteries and More