This Sunday, September 23, 2012, Saskatoon is holding its 2nd annual The Word On The Street festival. This is a national book and magazine festival – the largest of its kind in Canada – with simultaneous festivals in Halifax, Kitchener, Lethbridge, Toronto, Vancouver and Saskatoon.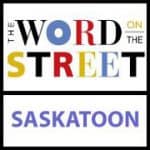 There'll be over 35 authors and presenters doing readings, signings, panels and workshops, with plenty to appeal to all ages and readers of all genres. Open air stages, a bustling marketplace, and a forecast for sun and 23. Can't get better than that.
I appeared on Global TV morning news today to talk about The Word On The Street and the Russell Quant mystery series. You can see the interview below (if you have the patience to wait through about 30 seconds of commercial!):
You can find me in person this weekend:
Saturday, September 22, 2012
Indigo Bookstore – Saskatoon – 8th Street
10:00 am to 12 noon
Meeting & greeting and chatting and signing books if ya got 'em!
Sunday, September 23, 2012
The Word on the Street festival
Great Expectations Stage – near Civic Square and City Hall
12:00 noon to 12:30pm
Reading from Dos Equis: A Russell Quant Mystery and Q&A & book signing
Hope to see you there!